Quick Recap of 100K 2017
Final Pitch of the HKU's first Entrepreneurship Seed Fund, "DreamCatchers 100K", was held on April 2 and $1 MILLON ($100K x 10) seed fund has been awarded to 10 teams led by HKU students and alumni. Thanks to all the teams, donors, mentors, judges and audience for the GOOD SHOW!
Details of the 20 finalists: Click here
Details of the Mentors: Click here
Gallery: Click here
Media Coverage: Click here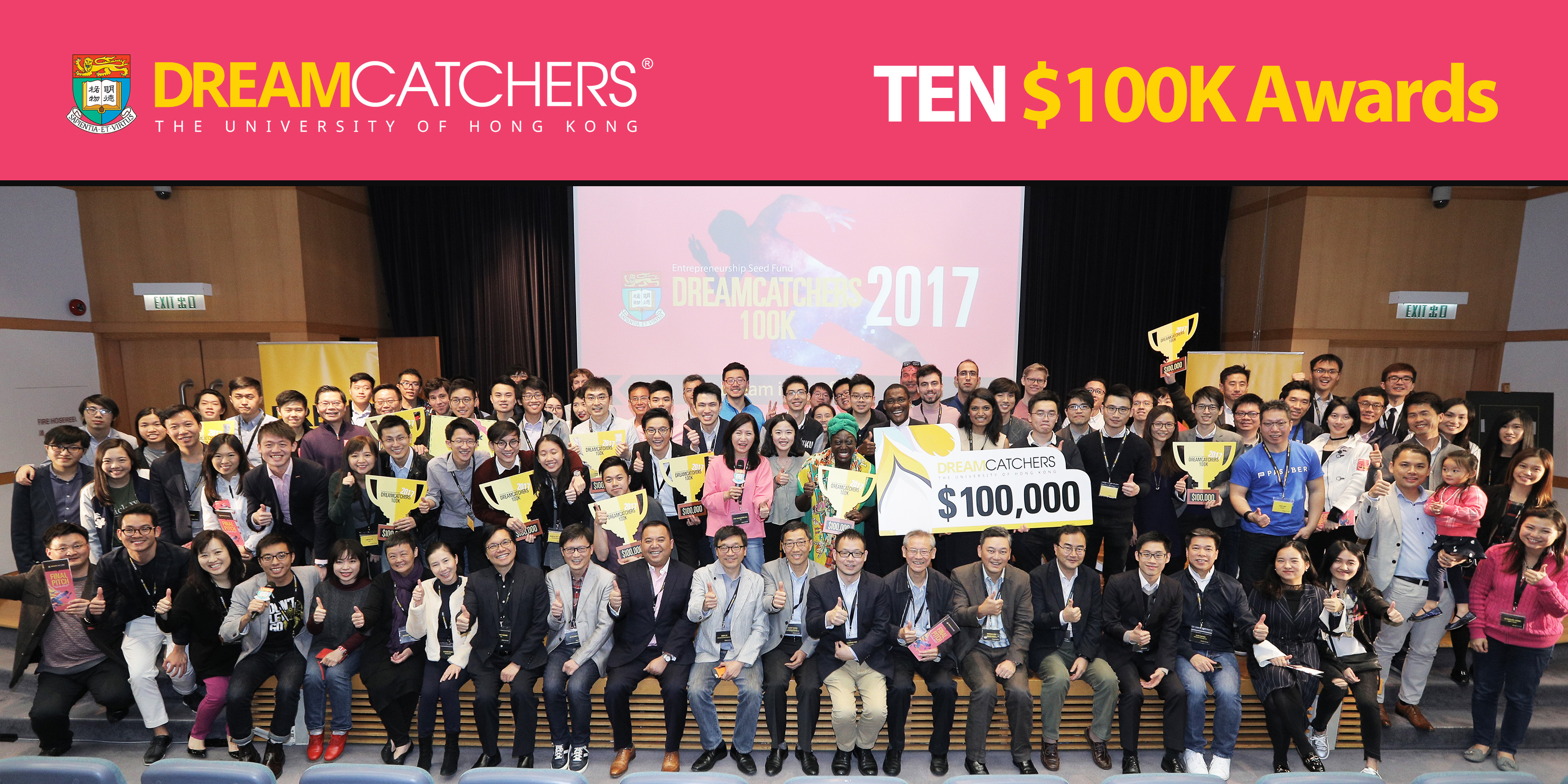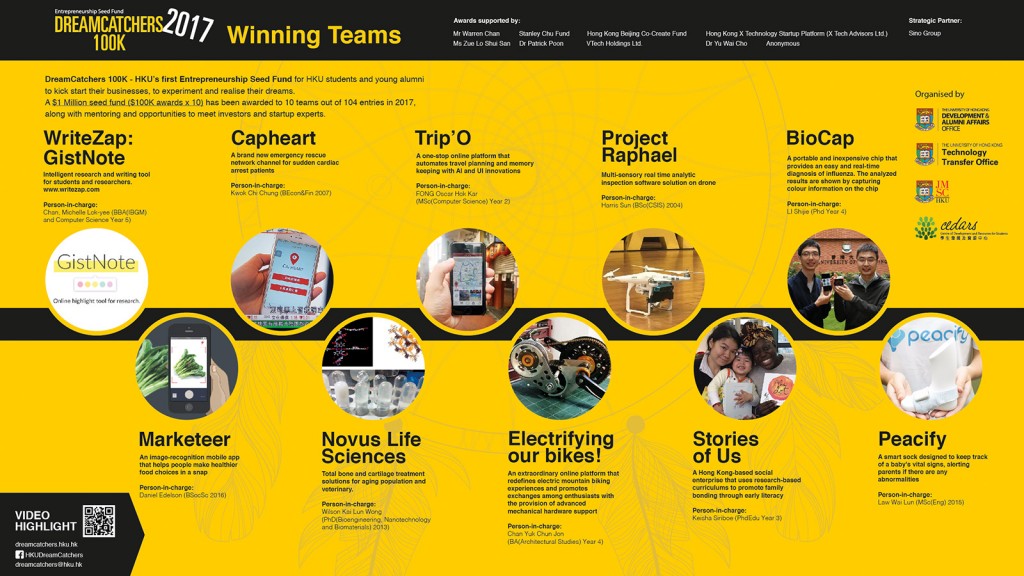 DC100K Awardees:
█ WriteZap: GistNote
"Intelligent research and writing tool for students and researchers. www.writezap.com"
█ Marketeer
"An image-recognition mobile app that helps people make healthier food choices in a snap"
█ Capheart
"A brand new emergency rescue network channel for sudden cardiac arrest patients"
█ Novus
"Bone degenerative diseases? Early treatment to change the life of your pet and YOU!"
█ Trip'O
"A one-stop online platform that automates travel planning and memory keeping with AI and UI innovations"
█ Electrifying our bikes!
"An extraordinary online platform that redefines electric mountain biking experiences and promotes exchanges among enthusiasts with the provision of advanced mechanical hardware support"
█ Project Raphael
"Drone as a service for intelligent inspection in construction and building"
█ Stories of Us
"A Hong Kong-based social enterprise that uses research-based curriculums to promote family bonding through early literacy"
█ BioCap: Real-time influenza indicator
"A portable and inexpensive chip that provides an easy and real-time diagnosis of influenza. The analyzed results are shown by capturing colour information on the chip"
█ Peacify
"A smart sock designed to keep track of a baby's vital signs, alerting parents if there are any abnormalities"
Peoples' Choice Award (TWO theDesk hot desk membership for half year) –
█ Trip'O
Congratulations to all winners!
-----
Strategic Partner –
Sino Group
DreamCatchers 100K is supported by –
Mr Warren Chan
Stanley Chu Fund
Hong Kong Beijing Co-Create Fund
Hong Kong X Technology Startup Platform (X Tech Advisors Limited)
Ms Zue Lo Shui San
Dr Patrick Poon
VTech Holdings Ltd
Dr Yu Wai Cho
Anonymous