Hult Prize@HKU Final Pitch: Change the world with $1 million USD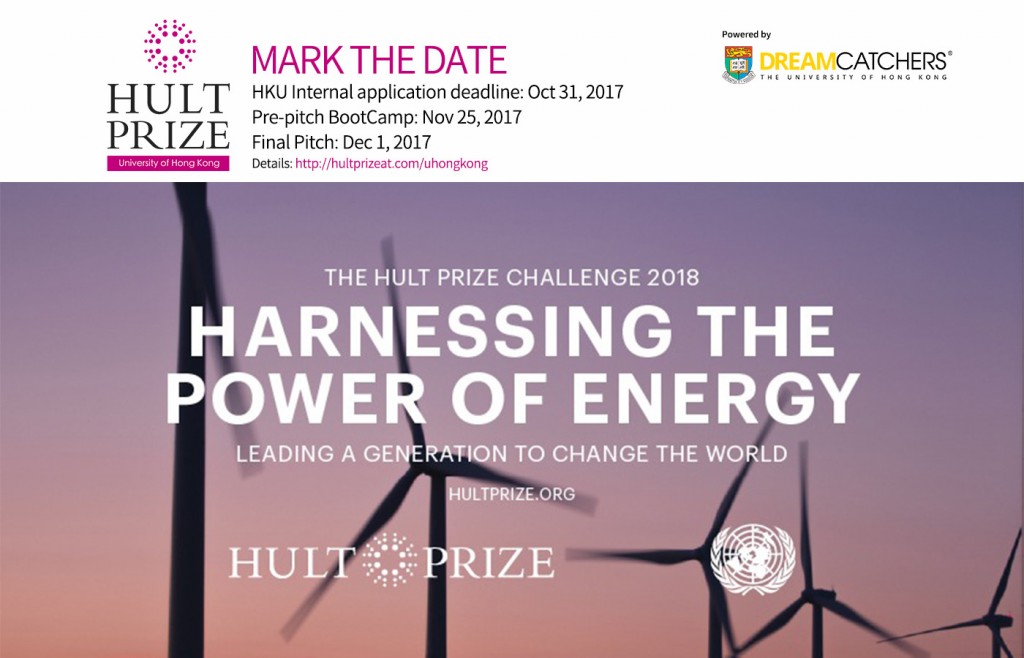 Change the world by winning $1 million USD seed stage funding through the 2018 Hult Prize Challenge. The challenge this year is: "Harnessing The Power of Energy – Leading a generation to change the world".
The Hult Prize is a global social entrepreneurship competition with a $1 million USD award for the winner. Every year it challenges university students around the world to put their time, talent, and innovation ideas towards solving the most pressing global problems. HKU Dreamcatchers, in partnership with the Hult Prize Foundation, is excited to announce the launch of Hult Prize@HKU.
The application has started and the campus pitch will be held on Dec 1 (Fri). The winning team from HKU will bypass the traditional selection and be directly promoted to the regional finals, pitching in cities such as Boston, London, Dubai, Tunisia, and Cairo in March.
Online application: https://goo.gl/forms/Sv4ucHrZd4iK4zHv1
                                Application deadline: Oct 31, 2017
Pre-pitch BootCamp: Nov 25, 2017 (compulsory)
Final Pitch: Dec 1, 2017 (compulsory)
Hult Prize Regional Finals: March 9-11, 2018 and March 16-18, 2018 (winning team only)
More details at Case Booklet of Hult Prize 2018 Challenge
More details at http://www.hultprize.org/ and http://hultprizeat.com/uhongkong
For enquiry, feel free to contact the Hult Prize@HKU organizing committee at hultprizehku@gmail.com or dreamcatchers@hku.hk.