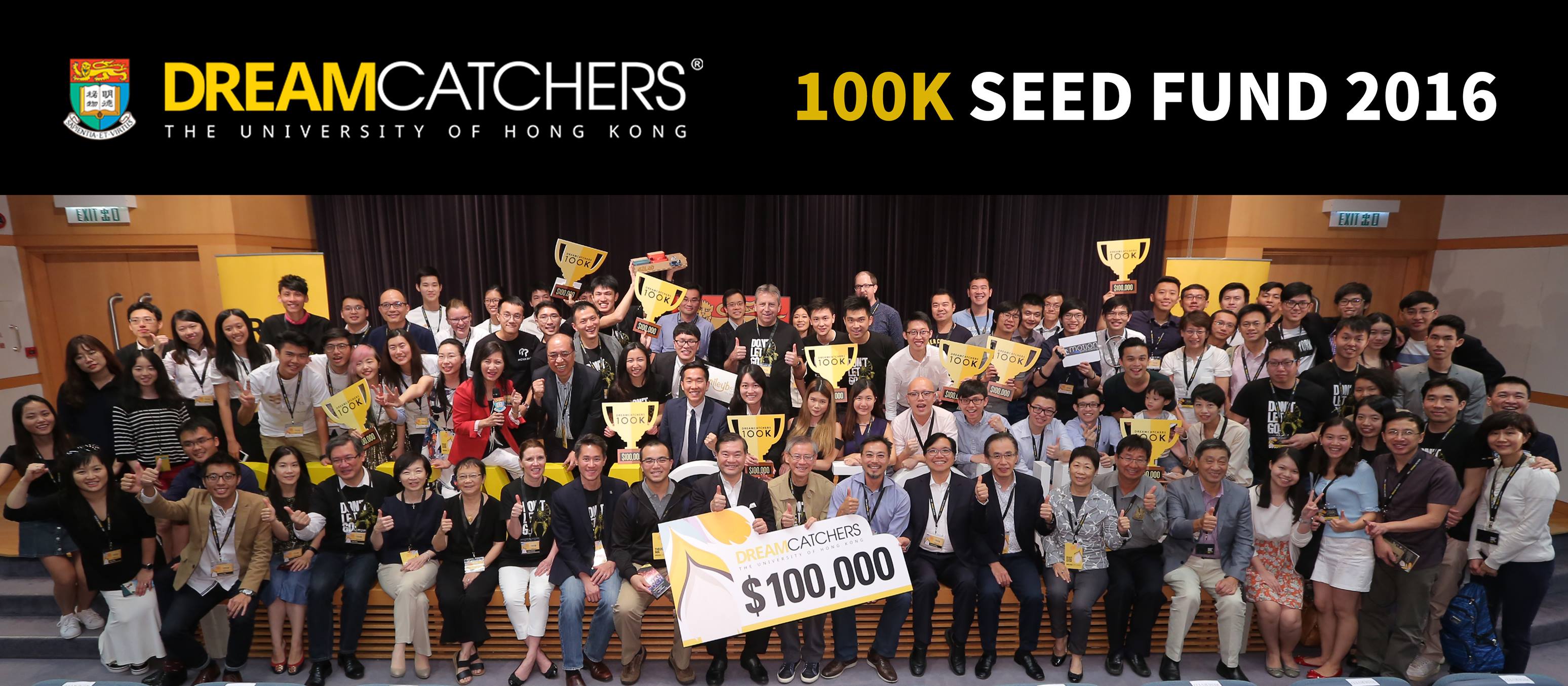 2016 HKU DreamCatchers 100K
HKU's first Entrepreneurship Seed Fund, DreamCatchers 100K is for HKU students and young alumni to kick start their businesses, and to experiment and realise their dreams.$1 MILLON ($100K x 10) seed fund has been awarded to 10 teams led by HKU students and alumni.
Thanks to all the teams, donors, mentors, judges and audience for the GOOD SHOW!
DC100K Awardees:
█ Chillazy 
"A physical hammock lounge for the exhausted working class"
█ CONZEB
"To build a fully automated instrumentation for easy and simple cancer screening"
█ DNA Replicator
"To provide an affordable and portable PCR machine for DNA am in schools and developing countries. "
█ Living Tissues Company Limited 
"To develop an automated system to fabricate cartilage from stem cells and biomaterial for repair in-house with minimal human interference"
█ MedEXO Robotics
"Exo-Stabilizer: Public Affordable Wearable Robotic Device for Parkinson's Disease Patients"
█ Movabar
"TA Platform(Web & App) and System for Off-Site Food & Beverages (F&B) Catering Services"
█ Motion
"To enable an affordable solution for self-contained motion tracking and sports training for the general public and professionals alike"
█ RECIPIO
"A revolutionary digital receipt solution that replaces traditional paper receipts to streamline the whole aftersales process, while enhancing customer loyalty"
█ ROOTS
"Your curated online food and food lifestyle marketplace that revives the everyday artisan and his/her products through a community-driven platform of experienced foodies"
█ Smiley Box
"To deliver boxes of toys to households on a tiered and annual subscription basis, following toy-curriculums developed by our child-education experts; these toys are later collected and recycled to generate educational opportunities for underprivileged children, to minimize resource waste, and to contribute to our local communities"
.
People's Choice Award (supported by HKU Graduates Association):
█ RECIPIO
2016 Mentors: 
Ray Chan 9gag
Ben Cheng Oursky
Kelvin Cheung UnLtd Hong Kong
Prof Paul Cheung HKU
Sunny Kok Green Tomato Ltd
CY Lau United Gain Investment Ltd
Freddy Law Inter Cultural Education
Keith Li Innopage
Howard Ling Bijas, Happy Veggies and Harvester Social Enterprises
Henek Lo WeWork
Erica Ma CoCoon
Otto Ng LAAB
Sam Ng Fundnel
David Rosa Neat
Ross Settles MDIF
Henry Tan Brio Ventures
Dr Frank Wan Versitech Ltd, HKU
Albert Wong HKSTP
Joelle Woo Microsoft Hong Kong Ltd.
Ada Yip Urban Spring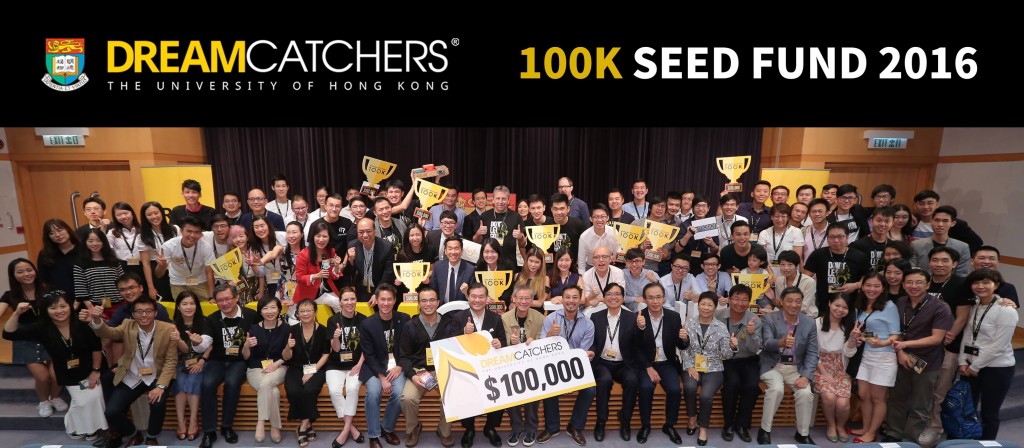 Click HERE to view the Gallery of the 2017 Final Pitch.
-----
HKU DreamCatchers 100K is supported by – 
Hip Shing Hong (Holdings) Co. Ltd.
Kin Tak Holdings Ltd.
Yeung Pak Sing & Chow Lup Ping
United Gain Investment Ltd.
Stanley Chu Fund
Anonymous
Special thanks to –
Hong Kong University Graduates Association
theDesk