Leaders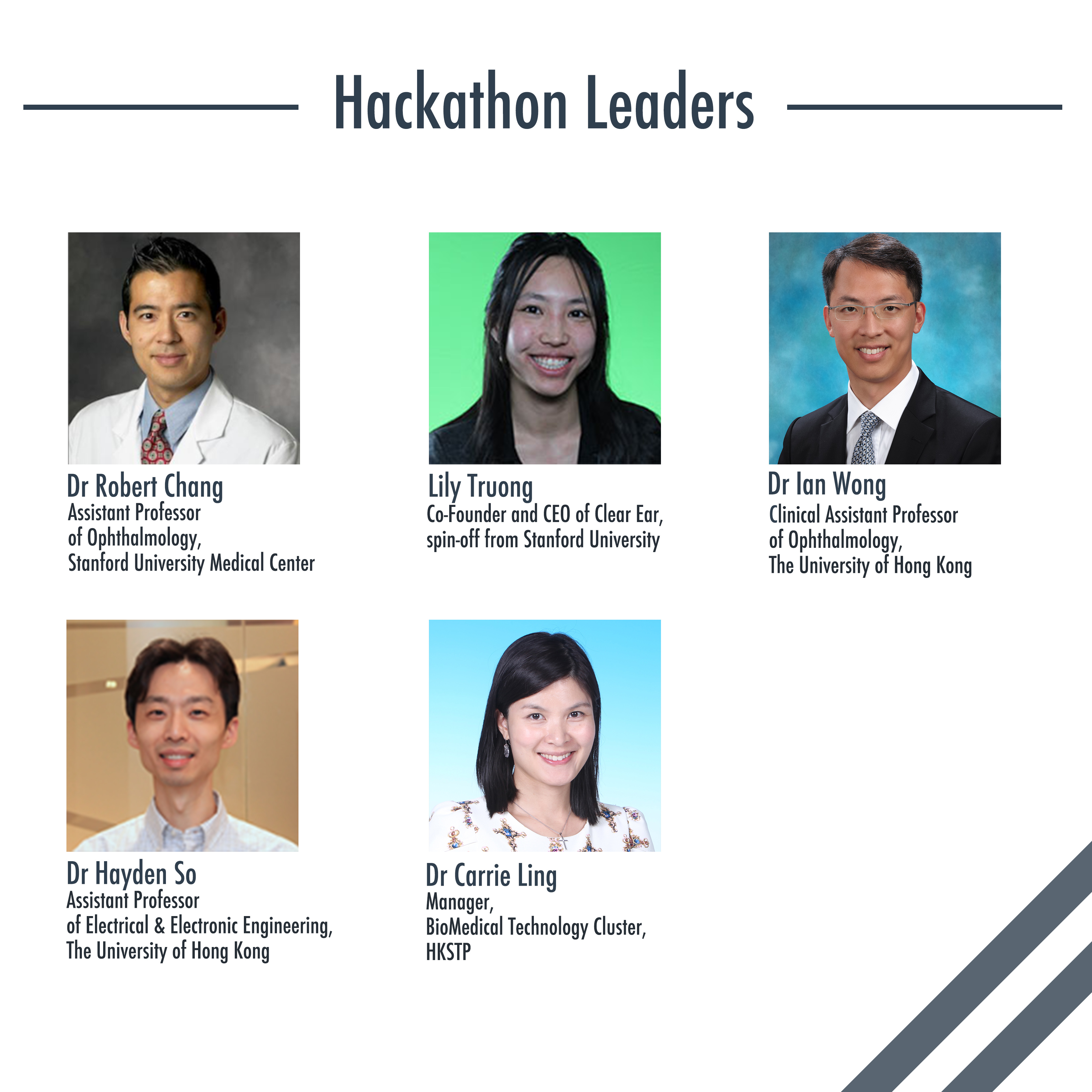 Dr Robert Chang
Assistant Professor of Ophthalmology
Stanford University Medical Centre
Dr. Chang runs a busy glaucoma and cataract surgical practice with special expertise in minimally invasive glaucoma surgery (MIGS such as iStent, ECP, trabectome, soon Cypass, Aquesys) and complex cataract removal using the latest technologies including intraop aberrometry and toric lenses. He is an expert on optical coherence tomography (OCT) having helped the development of Zeiss Cirrus. Besides state of the art clinical care, cutting edge research, and world class education (> 95 lectures including international teaching and volunteer work), he is involved in the development of novel mobile health devices and digital health startups as well as scientific advisor to multiple pharmaceutical and medical device companies. Current research interests include: differentiating high myopia from glaucoma, improving glaucoma medication compliance, eye care screening with mobile devices, computer vision machine learning, and validating and commercializing new medical devices.
Dr. Chang co-invented the EyeGo Smartphone imaging adapter, which was licensed to Digisight Technologies (now called the PAXOS scope https://goo.gl/KrCcO8). He brings translational medtech to the market to improve patient care. He is also the co-creator of an immersive, cross-cultural Stanford-China entrepreneurship graduate seminar (www.dhealthchina.com) and leads several hybrid biodesign hackathon seminars including Hong Kong, Brazil, Beijing, and Stanford. He is a Fellow of the Stanford Center of Innovation for Global Health, a Biodesign Faculty Fellow, and Lean Launchpad educator. He also won first place in the 2015 Philips Healthsuite Hackathon and the 2016 Robert Howard Design Award to improve his team's latest consumer medtech wearable for air pollution
---
Lily Truong
Co-Founder and CEO of Clear Ear
Spin-off from Stanford University
Lily Truong is the Co-Founder and CEO of Clear Ear, a privately held consumer medical device company focused on delivering innovations that make ears happier. Clear Ear was founded out of the Stanford Biodesign Program and has since commercialized its first product, the Oto-Tip.
She is the inventor on multiple patents & enjoys coaching fellow entrepreneurs through the biodesign process. In addition, her past volunteer work included serving on the board of the Healthy Scholars Foundation, a non-profit focused on removing heath barriers to learning. Prior to Clear Ear, Lily earned her B.S. and M.S. in Biomechanical Engineering from Stanford University. Her passion for global health innovations has brought about her diverse work experience within the healthcare industry at Genentech & Alcon in the U.S., Wavelight AG in Germany, and Focused Photonics in China.
---
Dr Ian Wong
Clinical Assistant Professor of Ophthalmology
The University of Hong Kong
Registered Specialist in Ophthalmology in Hong Kong
FRCOphth – Fellow, Royal College of Ophthalmologists
FRCS (Edinburgh) – Fellow, Royal College of Surgeons of Edinburgh
FHKAM (Oph) – Fellow, Hong Kong Academy of Medicine
FCOphthHK – Fellow, College of Ophthalmologists of Hong Kong
M.Med (Singapore) – Master of Medicine, National University of Singapore
MBBS(HKU) – Undergraduate Education, University of Hong Kong
---
Dr Hayden So
Assistant Professor of Electrical & Electronic Engineering
The University of Hong
Dr. Hayden Kwok-Hay So received his Ph.D., M.S., and B.S. degrees in Electrical Engineering and Computer Sciences all from the University of California, Berkeley in 2007, 2000 and 1998 respectively.
Before joining the department in 2007, he was a member of the Berkeley Wireless Research Center where he developed BORPH, an operating system for the BEE2 FPGA platform. While working as an intern at Xilinx research lab, he developed a virtual file system for FPGA dynamic reconfiguration.
His current research interests include integration methodologies between reconfigurable computers and conventional computers, reconfigurable computer architecture, application of reconfigurable computing technologies to high performance computing and high-end embedded systems, and reconfigurable computing education.
---
Dr Carrie Ling
Manager
BioMedical Technology Cluster
HKSTP
Dr. Carrie Ling is currently a Manager of Biomedical Technology Cluster, Hong Kong Science and Technology Parks Corporation (HKSTP). She is passionate about empowering one's creativity in science and technology through solving real-life healthcare problems. Before joining HKSTP, She was a Lecturer of Bioengineering Graduate Program at HKUST for 3 years. In 2013, she launched a new biodesign course which is a project-based course to design medical technologies that address the healthcare challenges in local communities to the undergraduate students at HKUST, believing that everyone can be an innovator.
She pursued her orthopedic research training at University of Florida, Department of Orthopedics and Rehabilitation, after her doctoral degree for two years. From 2009 to 2011, she was a Postdoctoral Fellow at Stanford University, Department of Mechanical Engineering. She has authored/co-authored more than 50 papers in international journals and conference proceedings and one US patent in optic fiber flowmeter for biomedical use.