From Hong Kong to Silicon Valley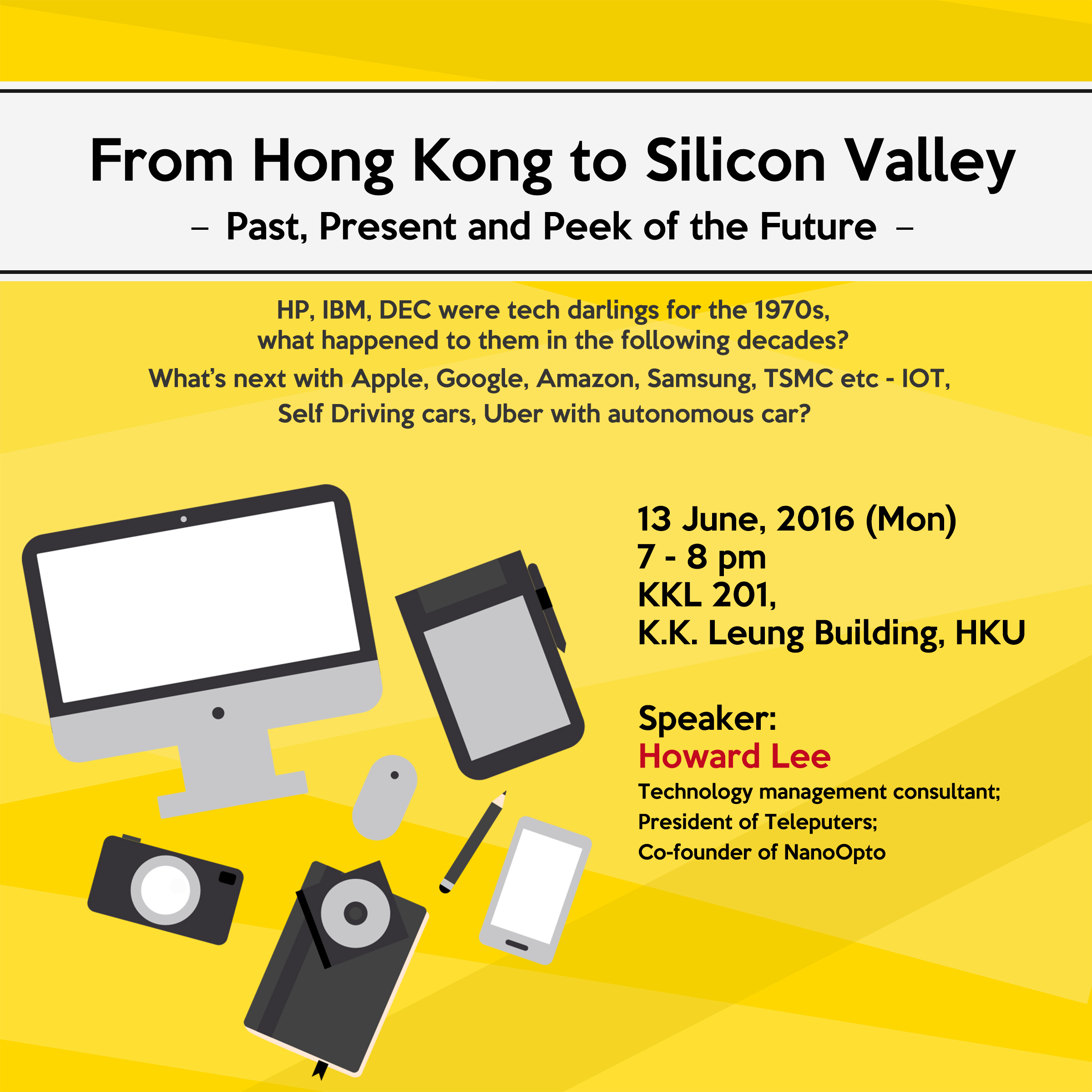 Want to know more about the past, present and future of Silicon Valley?
Date & Time: 13 June (Mon), 7-8pm
Venue: KKL 201, K.K. Leung Building, HKU
Register HERE
HP, IBM, DEC were tech darlings for the 1970s, what happened to them in the following decades? Intel, Apple, Microsoft and Sun started in the late 70s and early 80s, they ushered in the new computer age of CCC (Consumer, Communication and Computer), what did they do and how do they affect us now in – mobile smart phones, cloud computing, social media and web based business? What's next with Apple, Google, Amazon, Samsung, TSMC etc – IOT, self-driving cars, Uber with autonomous car?
As a technology manager, it is hard to predict the market response of one's product but one can optimize one's success by balancing the risk, schedule and reward with understanding of their respective impact and importance to the overall objective.  Understanding Time-to-Technology, Time-to-Market, Time-to-Volume, allows one to leverage the past to minimize execution risk and allow for flexibility in the future. Similar principles can be used to evaluate companies and their technologies to appreciate the fundamental challenges and forces at play.
HOWARD LEE is currently a technology management consultant and President of Teleputers, an IP technology company that markets and licenses patented IPs for the security and computing market. In startups, he co-founded NanoOpto, a startup that uses Nanotechnology to fabricate passive integrated optical devices. He was the interim CEO of Equator Technology, a media processor startup in Silicon Valley and President of Rise Technology, an Intel x86 compatible microprocessor startup company. He was technology advisor to Data Domain, a storage backup company and Maxeler Technologies, a FPGA based HP Computing startup in UK. At Sun, he was VP of engineering responsible for the delivery of all Sun-2 and Sun-3 workstation and server products. He also delivered the Sun-4 Sever product, started and delivered on the SPARC microprocessors for the Sun-4s. At Apple, he was the SVP of the Apple's Macintosh Division responsible for the entire range of computer hardware and peripheral products- these included Macintosh desktop, PowerBook, server, printer, and display products. He was also SVP and GM of at Unisys Corporation, responsible for their main frames and enterprise servers' product families. His industry experience also includes positions at GRID Systems and management posts at Hewlett-Packard. In Hong Kong, he attended DBS and went on to receive his BS in EE from Cornell University, a MEngr in EECS from the University of California, Berkeley, and a MBA from Santa Clara University.