Entrepreneurship Academy 2019
Subject to the announcement of the University's Senior Management Team, the remaining sessions (14, 21 & 28 Nov) will be cancelled/postponed.
We are sorry for any inconvenience caused.
 
#

創業101

 逢星期四下午5:30,每堂由不同嘉賓講者主講及分享心得,歡迎師生校友參加!
HKU DreamCatchers is organising the Entrepreneurship Academy (EA), a FREE ten-week workshop designed to enhance your skills in building your first business for your innovations.
Date: 19 Sept – 28 Nov 2019 (Every Thursday except 17 Oct)
Time: 5:30pm – 6:30pm
Venue: Room 223, 2/F, Knowles Building
*Participants will receive a Certificate of Completion if they attend 8 or more sessions.
** 1) All RPG Students and 2) TPG Students in Engineering who completed the Entrepreneurship Academy will have their completion recognised on their transcripts.
Seats are limited, register at http://bit.ly/2PaWxBB by 17 Sept, 2019 (Tue)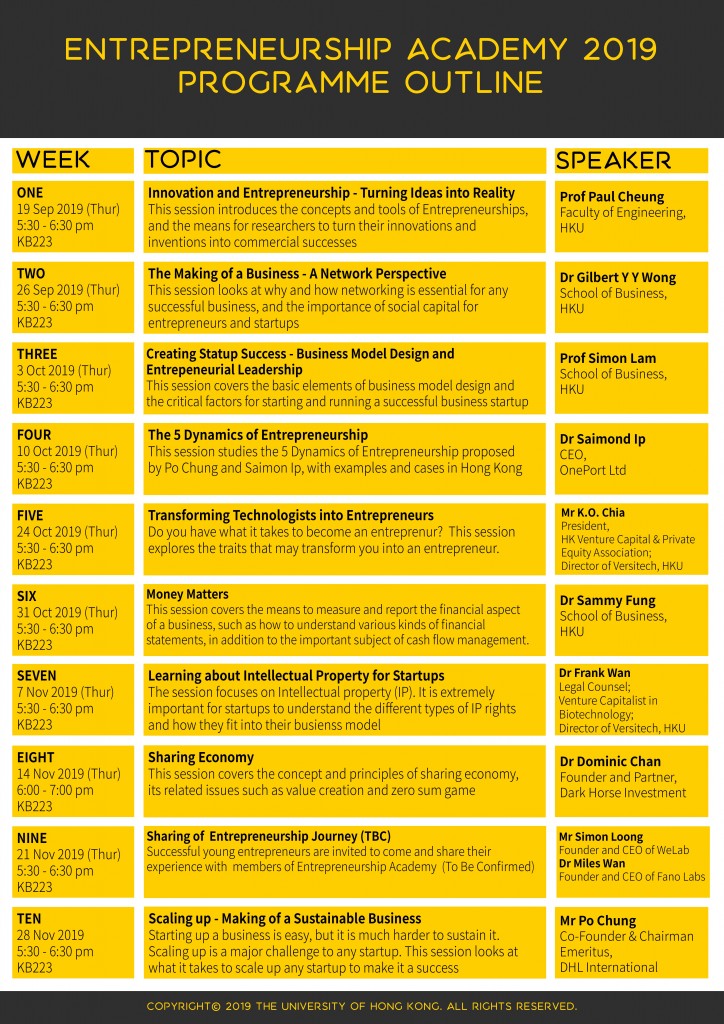 "LIKE" our Facebook page (https://www.facebook.com/HKUDreamCatchers/) to get the latest updates.
For enquiries, please contact us at dreamcatchers@hku.hk.