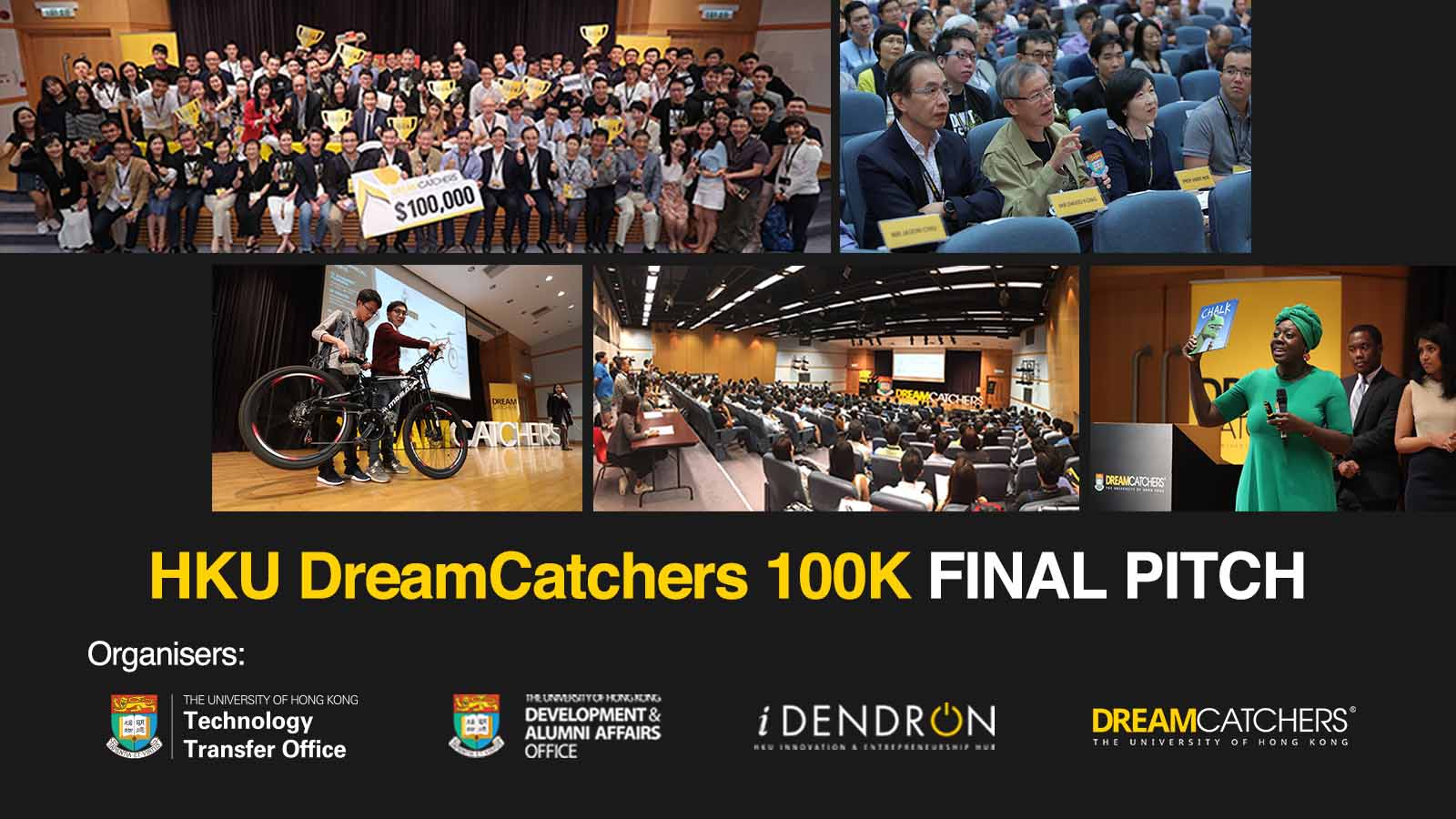 2018 DreamCatchers 100K Finalists
18 Finalist had been selected from 4 Tracks of different fields. Winning teams will each be awarded seed fund up to $100,000 to realize their dreams.
Register to vote for the People's Choice Award on 15 April: http://bit.ly/2018DC100KFinalPitch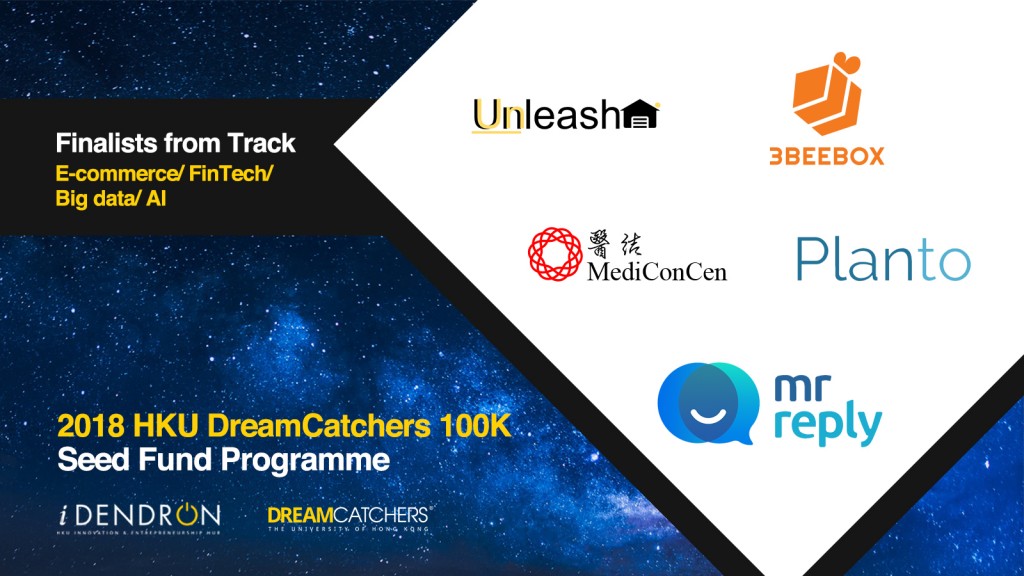 Track: E-commerce/FinTech/Big data/ AI
Unleash
Unleash is an online storage space marketplace with prominent features such as no minimum space requirements, highly flexible renting period, and price transparency, which aims to turn the underutilized space into economic benefits.
Person-in-charge: Lee Lik Hang (BEng 2011; Mphil 2014)
3Beebox
Thru targeted product sampling, 3Beebox is the next generation of marketing consulting that helps fast-moving consumer goods (FMCG) brands advertise their products, provide their target consumers with samples, and execute market research at the same time.
Person-in-charge: Simon Kung (MBA, year 2)
Website: http://www.3beebox.com
MediConCen
Together we will build the first blockchain insurance medical network in the world. Our blockchain will instill trust to even the smallest bonesetters, mobilizing medical experts all over the world to serve the insured population without middleman.
Person-in-charge: William Yeung (BSc (Actuarial Science) 2006)
Website: http://www.mediconcen.com
Planto
Planto is on a mission to modernize and scale financial planning for masses using technology and AI.
Person-in-charge: Ankit Suri (B.Eng (Computer Science) 2013)
Website: https://www.planto.io
MrReply
Let everyone build a chatbot without coding in 10mins.
Person-in-charge: Kenny Lim (BBA, Year 6)
Website: https://mrreply.com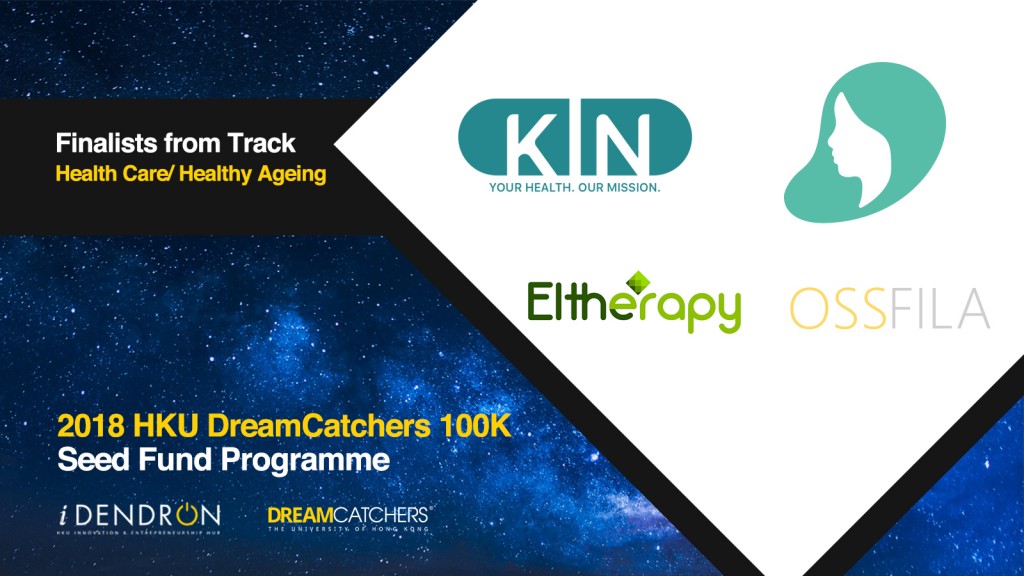 Track: Health Care/Healthy Ageing
KIN
A healthcare company-to-be introducing their first product: A revolutionary pill dispenser that makes sure you never miss a medication.
Person-in-charge: Oswin Yeung (BAAS, Year 4)
Aavia 
Aavia is empowering women with femtech. We invented the first-ever smart sleeve for the Birth Control Pill blister pack, so women can be confident in taking the Pill. On time. Every time.
Person-in-charge: Alexis Wong (BEng (EE) 2017)
Website: http://www.aamcares.com
Eltherapy
Eltherapy – A sustainable, therapeutic and professional training platform with interdisciplinary effort as an innovative solution for the elderly needs in both physical and mental spectrums.
Person-in-charge: Nokia Cheung (MGPP 2018)
OssFila
3D printing solutions to advanced tailor-made ortho implants. Building superior strength and integrity, with seamless biological integration.
Person-in-charge: Karen Kwan (PhD 2015)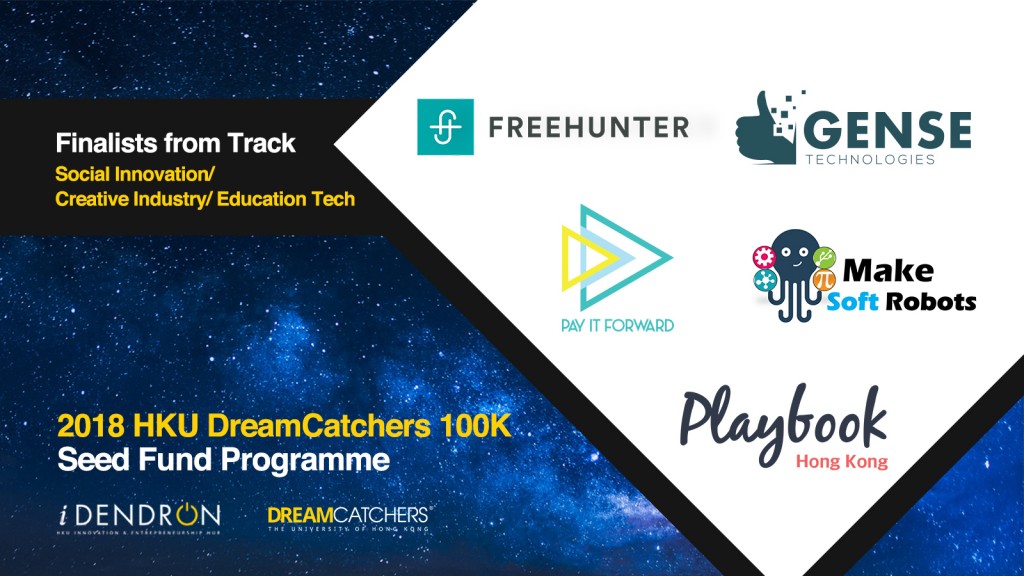 Track: Social Innovation/ Creative Industry/ Education Tech
Freehunter
An online marketplace to hire a personalized freelancing talent in the creative industry.
Person-in-charge: Harris Cheng (BEcon&Fin 2017)
Website: https://freehunter.hk
Gense
Gense is developing real-time sign language to voice translator wristbands and smartwatches for the deaf and mute community. Simply by putting on two wristbands, users could speak in sign languages as normal and communicate with anyone through a wearable speaker.
Person-in-charge: Russell Chan (BEng 2011; PhD 2016)
Website: http://gense.tech
Pay It Forward
Pay It Forward allows you to exchange kindness with kindness, convenience with convenience along your commutes. Harnessing the latent capacity of the mobile population, we empower people by increasing mobility while building a socially-thriving community.
Person-in-charge:  Cynthia Sin Nga Lam (MBBS, year 3)
Website: payitforward.hk
Make your own soft robot
Do you want to create unusual robotic creatures? Are you afraid of difficult knowledge about science and engineering? Why not try our Robot Education Kits, learn about the amazing nature and latest technologies by making your own soft robot!
Person-in-charge: Riddick Li (Li Yunquan) (PhD, year 2)
Playbook
An all-in-one platform for scheduling gatherings, finding and booking entertainment activities.
Person-in-charge: Brian Chui (BBA(Law)&LLB, year 4)
Website: reubird.hk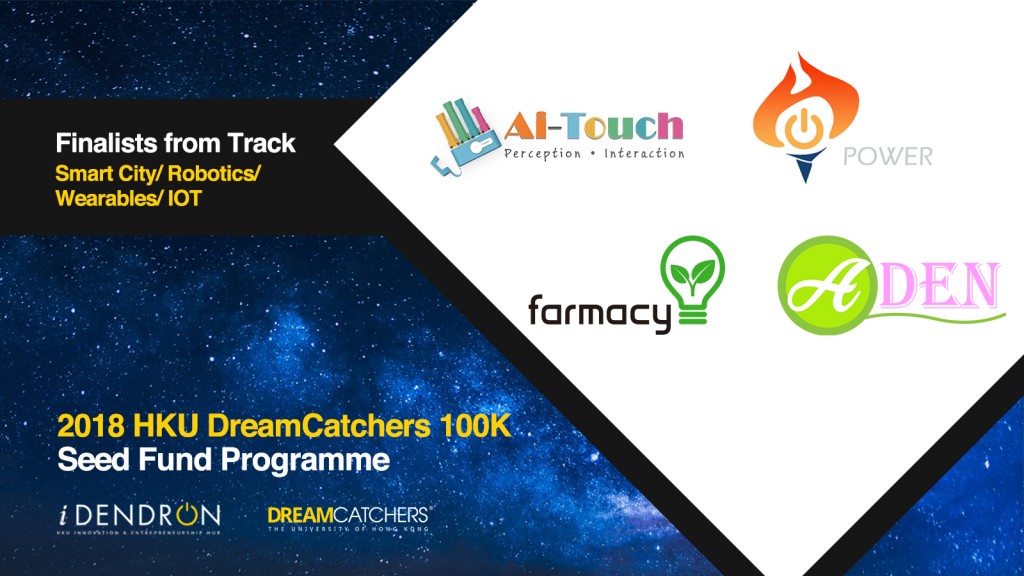 Track: Smart City/ Robotics/ Wearables/ IOT
AiTouch
AiTouch is a low cost and high accuracy wearable data glove tailored to provide a natural and instinctual tool for users to interact with virtual world using 3D gestures.
Person-in-charge: Leo Wang (PhD, year 1)
HitPower
Ubiquitous low-grade heat is usually wasted without use, a novel thermal-charging electrochemical cell that combines low-grade heat conversion and electricity storage is invented, which can be a game-changing technology toward the ongoing demand in sustainable energy.
Person-in-charge: Vivian Yu-Ting Huang (PhD 2017)
Farmacy
Farmacy grows a large variety of high quality rare herbs and edible flowers in our indoor hydroponic lab located in the heart of our city. We enable same day farm-to-table produce in Hong Kong and aim at expanding in Asia and beyond.
Person-in-charge: Mak Ka Chun Raymond (BA 2005, MBA 2017)
Website: https://www.farmacyhk.com
Project Aden
To development affordable, automated and diversified encapsulation machines.
Person-in-charge: Cheng Ka Hong (BEng(EngSc) 2017)